ACCOMPANYING PERSON PROGRAM
Monday, April 28, 2008:
The Weisman Art Foundation and Rodeo Drive:
The Cutting-Edge of Art and Couture
Accompanying persons will start their day with a private guided tour of one of the city's cultural gems, the Frederick R. Weisman Art Foundation. Nestled in an exclusive neighborhood in Holmby Hills, this 1920s Mediterranean-style villa serves as a showcase for Weisman's personal collection of 20th-century art. The nearly 500 works displayed by the Frederick R. Weisman Art Foundation include pieces from European Modernism, Surrealism, Abstract Expressionism, Pop Art, SuperRealism, and contemporary California art.
After an elegant lunch at Wolfgang Puck's flagship restaurant, Spago Beverly Hills, accompanying persons will continue their afternoon with a shopping excursion to Rodeo Drive, known to the world for its fabulous shops featuring luxury jewelry and couture fashion. Accompanying persons will be hosted first by Ferragamo, where they will sip champagne while enjoying an informal fashion show featuring Ferragamo's latest clothing designs, and then by Chanel, where they will enjoy high tea on the private fourth-floor roof terrace of Chanel's exquisite store.
Monday, April 28, 2008:
Disney Hall and the L.A. Fashion District:
The Epicenter of Music and Fashion Design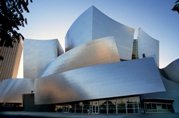 Accompanying persons will start their day with a private tour of the Walt Disney Concert Hall, home to the Los Angeles Philharmonic. Designed by world-acclaimed architect Frank Gehry, Disney Hall has quickly overtaken the Hollywood sign as the landmark of Los Angeles.
Continuing on to the L.A. Fashion District, accompanying persons will visit the California Market Center, the largest wholesale fashion mart in the world; selected wholesale showrooms, where they will see firsthand how the retail trade purchases garments on a mass scale; a fashionable designer studio, where a local L.A. designer will share insights on how designers "break into the business"; and a variety of small boutiques tucked away on the busy streets surrounding the wholesale buildings. Accompanying persons will have ample opportunity to shop for limited production garment and accessory samples normally unavailable to the public and enjoy lunch in the trendy "fashionista" haven of the Fashion District.
Tuesday, April 29, 2008:
A Private Day at The Huntington Library and Botanical Gardens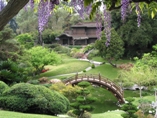 Henry Huntington began developing the Botanical Gardens of The Huntington Library, Art Collections, and Botanical Gardens over 100 years ago. Today, the gardens span 120 acres and feature more than 15,000 kinds of plants from all over the world. On a day closed to the public, private guides will lead accompanying persons on an exclusive, private tour of the newly opened Chinese Garden featuring a beautiful lake and waterfall accented by Tai Hu rocks, five hand-carved stone bridges, and other exquisitely carved wooden and tiled pavilions transported directly from China and installed by Chinese craftsmen from Suzhou. After a casual lunch in the Garden Terrace, accompanying persons will spend the afternoon exploring their choice of the Desert Garden, one of the largest assemblages of cacti in the world; the Rose Garden, a collection of rose species dating back to the ancient Egyptians; or the Japanese Garden, a tranquil, quiet retreat from the rapid pace of daily life.
Wednesday, April 30, 2008:
Getting Your Child Admitted Into a Top U.S. University
Preparing your children for college can be a daunting task for any parent. Accompanying persons will hear from a University of Southern California (USC) admissions officer firsthand the "do's and don'ts" of getting today's generation of children admitted into a top university in the United States. In addition, accompanying persons will learn about USC's focus on attaining one of the largest international student populations of any U.S. university, and hear an insider's perspective on the opportunities and challenges faced by international students in today's highly competitive academic environment.
Wednesday, April 30, 2008:
From Ancient Times to Modern Living:
A Day at LivingHomes and
The Getty Villa
Accompanying persons will participate in a private tour of a modernist home that allows luxury and the environment to coexist in harmony. This 2,500-square-foot LivingHome, tucked away in Santa Monica, is the first home in the United States to achieve "platinum" certification from the United States Green Building Council's LEED for Homes Program. The home's owner and LivingHomes' CEO will explain how eco-friendly architects and builders are utilizing the latest natural, nontoxic, and sustainably-derived materials to build homes that have a dramatically smaller ecological footprint, yet offer equally impressive flair for design and comfort.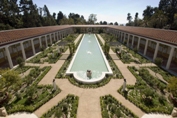 After lunch, accompanying persons will embark on an excursion to ancient Rome as they explore the Getty Villa, which houses the Greek, Roman, and Etruscan antiquities collection of the J. Paul Getty Museum. On a day closed to the public, private guides and Villa Gallery teachers will conduct a private tour of the museum, as well as the exterior gardens, where replica bronze sculptures, fountains, and lush plantings of trees, herbs, and flowers will delight the senses and provide key insights into the historical significance of daily life at a Roman villa.
Saturday, April 26 to Friday, May 2, 2008:
The Spa at Equinox - Century City
The IPBA 2008 Annual Conference have secured special opportunities at the Spa at Equinox - Century City located in the Hyatt Regency Century Plaza. Please
click here
for a full list of services.
Please
CLICK HERE
to review the terms and conditions applicable to these programs.